Looking for bloggers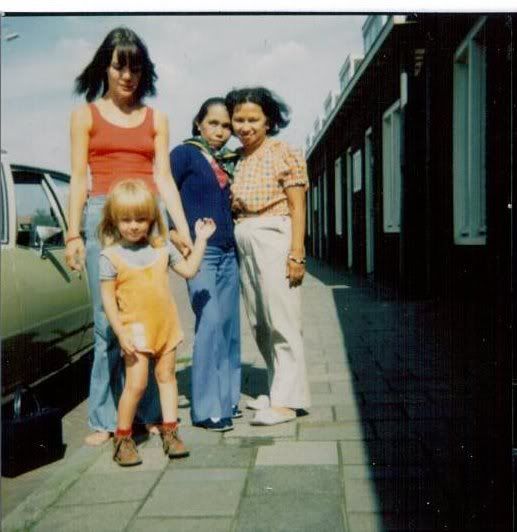 The little blond girl, that's me!
Not an ordinary Dutch girl.... The woman wearing the red top is my mother, and the woman in white pants is my grandmother. This summer I went to Indonesia for the first time, my mother, my daughter and me. We visited our family and I understand more about myself after being with them. I look Dutch, but often I don't feel Dutch!
Now something completely different:
Hello again, fella bloggers,
I lost the blog addresses of a person, who's blog I would like to visit, every now and then. I changed templates and lost him! His name is
Abhi,
if I write it the right way... I cannot find his blog with the search machine either. Did he delete his blog? Anyway, although I post comments on other blogs, I don't get a reaction back! Now I think of going somewhere else, maybe just a Dutch weblog... I like to go international, since I traveled a lot, but if there is no response it gets a bit boring...
Is there something wrong with my blog? Isn't interesting, or are you missing something here?
Let me know! And to my friends, who have visited my blog and didn't leave a comment: please take the effort to leave a comment? I've put hours and hours of my time in it... Night after night... So if you don't like to read here.... All comments are better than none.... (don't take this litteral...)